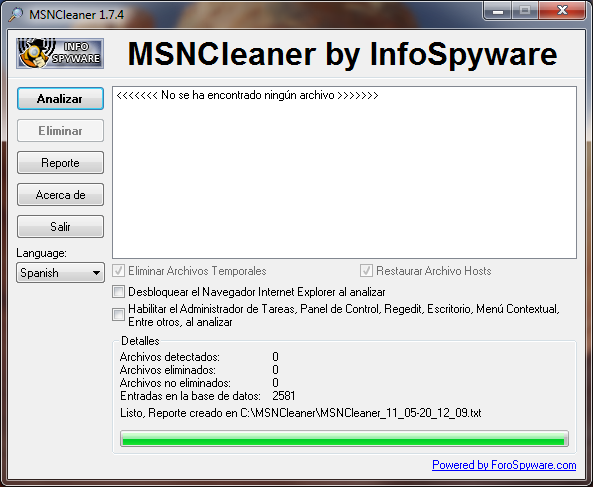 [You must be registered and logged in to see this link.]
MSNCleaner es una utilidad gratuita creada por el equipo de InfoSpyware para la detección y eliminación de todo tipo de Malwares que se trasmiten vía MSN Messenger y Windows Live Messenger entre otros.
MSNCleaner es en otras palabras un Antivirus específico para Windows Live Messenger el cual si bien no nos protege en tiempo real, nos permite limpiar con un rápido escaneo nuestro MSN infectado por los clásicos Malwares que se hacen pasar por nosotros en el MSN enviándole a nuestros amigos archivos infectados con leyendas como: "Mira la foto", "Da uma olhada nas fotos dessa festa… muito legal…" y similares, generándonos a su vez un completo informe.
Si nuestros amigos se nos quejan de que les estamos mandando cosas raras o directamente virus, probablemente estén en lo cierto. Cada vez hay más virus y Malware propagándose a través de los programas de mensajería instantánea como Messenger.
MSNCleaner no requiere de instalación y está en varios idiomas como inglés, español, etc. Es totalmente gratuito, rápido y fácil de utilizar aparte de contar con el soporte especializado de los expertos de InfoSpyware.
Otras características de MSNCleaner:
* Desbloquea el "Regedit"
* Desbloquea el "Task Manager"
* Desbloquea la página de inicio en "IE"
* Borra archivos temporales
* Restaura valores originales del registro de Windows
* Restaura el archivo "Host" al original
* Habilita las funciones del "Panel de Control".
* Habilita el "Escritorio"
* Habilita los "Iconos de Escritorio"
* Habilita el "Reloj"
* Habilita el "Apagar equipo" en el Menú Inicio.
* Habilita el "Buscador" en el menú Inicio.
* Habilita el "Ejecutar" en el menú Inicio.
* Habilita la "Consola CMD"
* Habilita el "Menú Contextual"
* Habilita el "Opciones de Carpeta"
* Sistema de Backup (respaldo) al borrar en "C:\BackUpMsnCleaner"
* Función automática de "Borrar al reiniciar" para archivos rebeldes.